The Only Preserved Roses that POP!
Why our POPs are the cream of the Preserved Rose crop!
Rosepops' arrangements are the only rose boxes that use Patented POP-up technology. A gentle pull on the ribbon, POPs your real Ecuadorian roses up, bringing that memorable WOW factor to every Rosepops experience! And while the POP guarantees delight, it is also the magical ingredient that makes Rosepops arrangements the most beautiful ones on the market!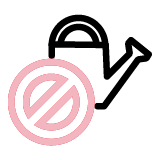 Low Maintenance- No water needed!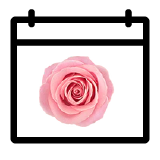 Flowers that Last Up to a Year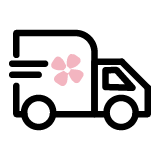 Fast 2-Day Shipping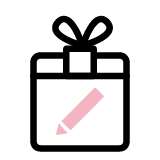 Personalize Your Pop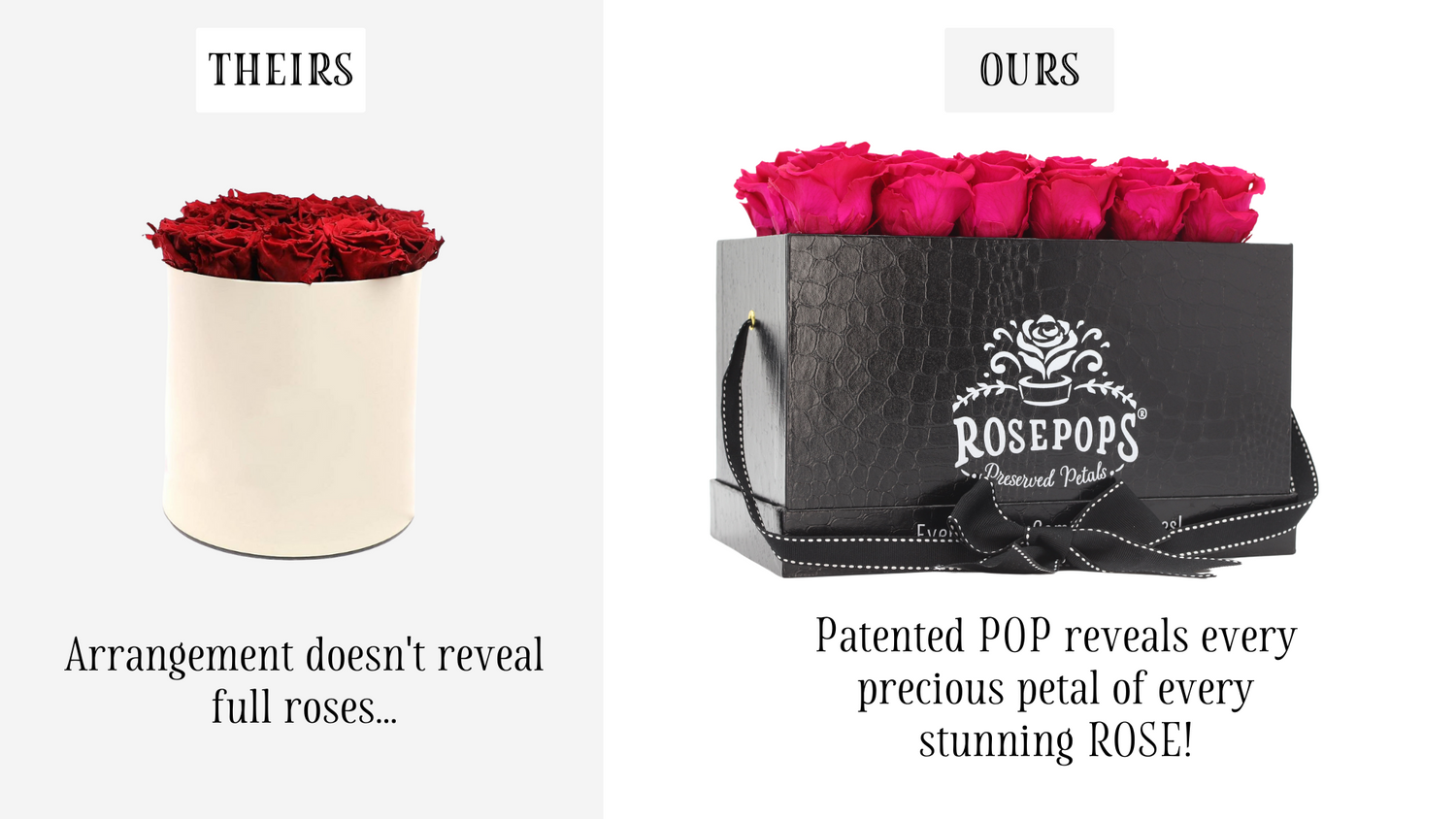 THE POWER OF THE POP!
Rosepops' Patented POP-up technology, pops your roses to maximum height, revealing their full size and the beauty of every petal! No other rose box on the market offers the magical moment of the POP with the added bonus of seeing the full robust profile of each and every rose!!
Design Your Own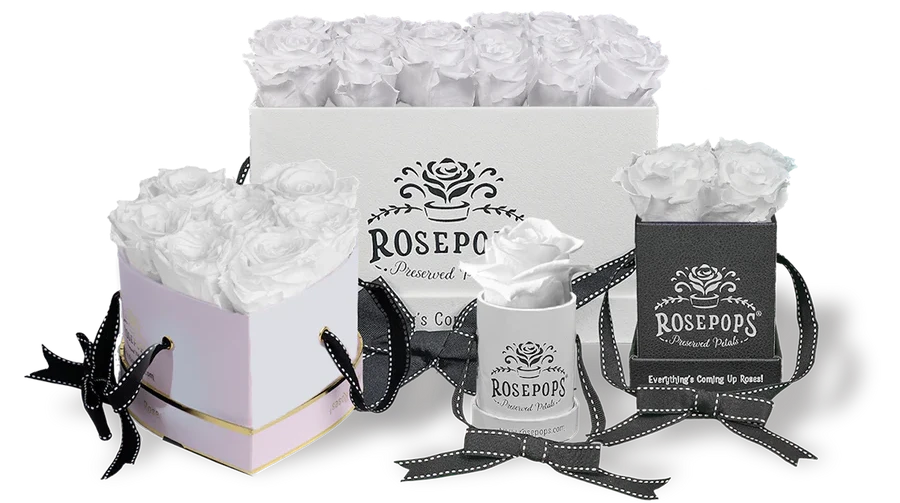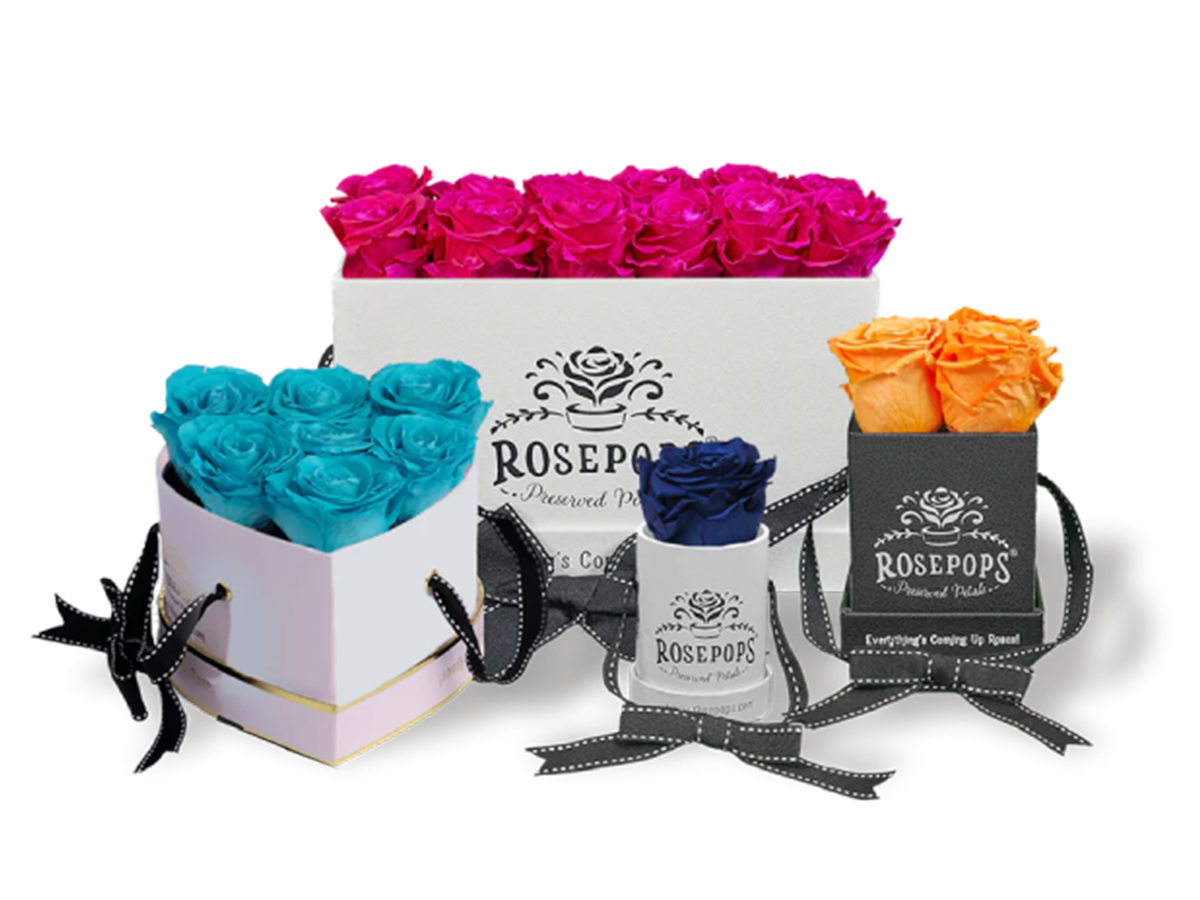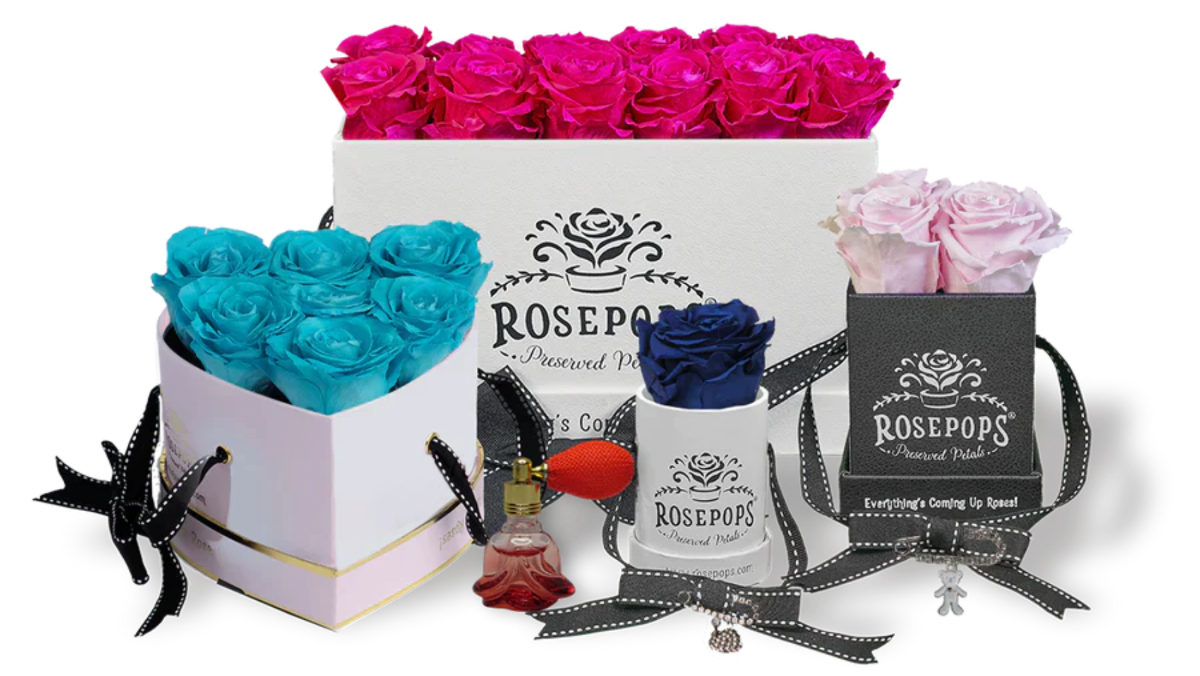 SELECT YOUR SIZE
From a single rose to an over the top arrangement of 18 roses, every size makes a statement.
SELECT YOUR ROSE
Picked at peak bloom from our Ecuadorian farms, our roses boast vivid color, velvety texture, and unparalleled delicate silhouettes.
SELECT YOUR UPGRADE
So many options! From custom fragrances to monograms and personalized photos and charms. We offer a host of ways to make your arrangement more personal.

Rose Color
Box Color & Style
Fragrance
Monogram
Video Message
Message
Charm
Personal Photo
GET STARTED
Customer Reviews
Ecstatic

My wife was ecstatic when she opened the box and saw the arrangement that I had sent. It has been 2 years and she still has them on display at our house. I will never buy flowers from anywhere but here. They are worth every penny spent . 👍👍👍.

- Tabatha R.
Still look amazing

I ordered these flowers for my daughter and she absolutely loved them 💕 I also have a box that I was gifted years ago and they still look amazing.

- Elizabeth D.
Every morning

Beautiful product. My wife was so pleased that she keeps on her closet shelf so she can see it every morning. It was a much bigger hit than just more cut flowers.Delivery was less than 3 days, so it arrived in time for Valentine's Day.

- Illaina P.
Thank You!

My mother-in-law absolutely loves them for her birthday!!! The raspberry roses are just gorgeous and it was so much to pull the ribbon to pop up the roses. Thank You!

- Susan S
They even wrote it in Spanish

Beautiful Roses! Smell and look great and I love the beautifully written note inside the lid. They even wrote it in Spanish for me with all the accent mark's where needed. I am over the moon! My mom will absolutely love these for her birthday! I'm thinking of sending more to friends over the holidays. This will definitely cheer them up!

- Selene G.
gifted to myself

​​Love the beautiful roses I gifted to myself on behalf of my family - every time I look at them I smile! It's also nice to know that I will have them for months and months to come! Thank you!

- Ronit H
The best gift she has ever received

My mother loved her rose pops for mother's day. They still look beautiful! She said it was one of the best gift she has ever received. Thank you for making her day.

- Jason R.
Back for more

Absolutely a great product, to include the fragrance. My wife already sent me back for more lol :).

- Susan R.
Worth it

My Grandmother absolutely loved them, I sent them for Mother's Day, Yellow roses as a memorial for my great grandmother her mother, she loved them so much she actually cried she said it was one of the best gift i could have gotten her ever. This all happened during the restrictions due to Covid, I'm still waiting to see them myself, definitely worth it.

- Simone